The Orlando Best Hair Salons
Explore more about the beauty and hair salons in Orlando. Find more about tips and offers. If you want to be fair then tip anywhere from 15 to 20%. Of which at 15 dollars will be 2.25 to 3 extra dollars. That is just for a regular haircut. If there is shampoo or actual styling is included. Then hold that in mind with an extra tip. Along, with an extra dollar per added service. Pricing for haircuts can range anywhere from $35–$150 or more. Hair colouring services range in price from $65 to $200 or more. All of this depending on the products used and the stylist's reputation.
For great assistance, Orlando, the barbers should be tipped 15 to 20 percentage of the total amount. The total hair cut. Tipping your barber is considered a common courtesy. It makes up a large part of their income. The tip amount can change if your cut was excellent. While haircut prices can range from $10 to $100. The average cost of a haircut in the United States is $28. However, it is important to note that how much a haircut costs. It can range depending on your city, how good the barber cutting your hair is. The character of the barbershop you're attending.
Although tipping is optional not just in Orlando, it's always great to show your appreciation for great service. 15–20% of the total cost of the hair service. If your haircut costs a total of $25 but you have a $5 off coupon. The one which means you pay $20. Then you should tip on the total amount of the haircut. All before the discount. As far as pricing runs: time, hair length, texture, density. The stylist's skill level and education are all factors. Some artists raise their prices every time they take a class. They go to a show or get a certification. Moreover, blow drying natural hair that hasn't been trimmed recently is especially difficult.
Orlando beauty and hair salons
Aisha Beauty Salon & Spa – Orlando
Aisha Beauty Salon & Spa is a full-service Orlando salon that provides world-class services. In a warm and inviting environment. The company's luxury spa services include facials, peels, and massage. The company offers great spa packages such as a European facial. The one-hour Swedish massage for just $119. Customers can enjoy a full range of cut, colour, and styling services. As well as fun henna tattoos, spray tanning, eyebrow shaping, and body sugaring. Customers can call or email the company to schedule an appointment.
All Dolled Up – Orlando 
All Dolled Up are Oviedo's premier multicultural salon for women, men, and kids. The woman-owned company offers full-service hair care for natural styles. By this means including fashionable cuts, weaves, funky colour. The gorgeous, natural-looking extensions, as well as maintenance services for local. The company's stylists perform thorough consultations. In order to give each customer a perfect, customized look. The company's school of cosmetology offers professional training courses for stylists. Customers can call or contact the company. On the website to schedule an appointment. For appointments Oviedo, FL 32765. Tel:+14076220422
Be Happy Girls Spa & Parties – Orlando 
The friendly, knowledgeable staff at Be Happy Girls Spa & Parties is committed to providing the ultimate experience to customers. The company offers fun, luxurious spa parties for tweens and kids, and customers. They can enjoy an afternoon of manicures, pedicures, makeup, and hairstyling. The company provides a private party room stocked with pizza, juice, and ice cream. Special packages are available for kids and moms, best friends, or birthday parties. Every event has at least five dedicated staff members. Clermont, FL 34711 Tel:+13523273765
CSC Beauty Salon – Orlando
CSC Beauty Salon is a full-service Orlando hair, skin, and nail care company. The company's experienced staff give every customer star-quality treatment. Offer an extensive menu of professional spa services such as age-defying facials. The relaxing massage therapy, and facial and body waxing. Customers can enjoy fresh, new cuts, colour, and highlighting, as well as luxury Brazilian keratin treatments. Also, the tape-in hair extensions. The company also sells hair and skincare products from well-known brands. The ones like Alfaparf Milano, Yuko, and BioElements Professional Skin Care.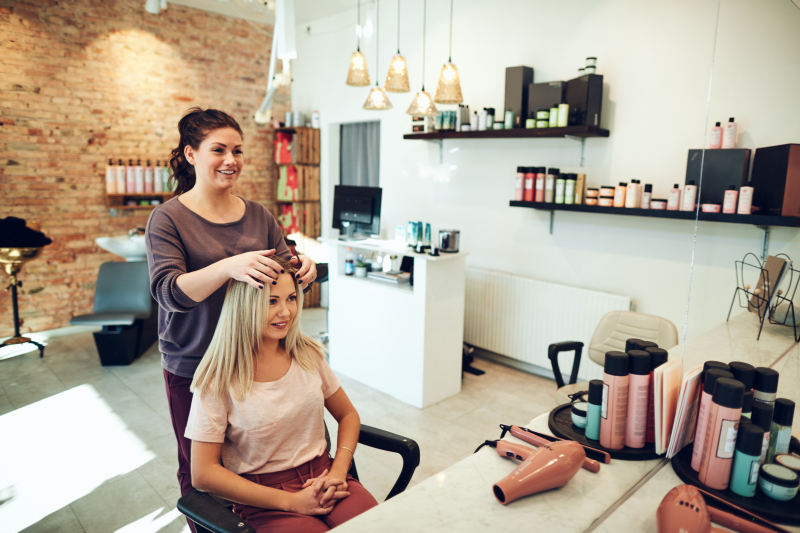 Hair Maiden – Orlando
Hair Maiden is a full-service Orlando salon that offers an extensive menu. Of all the top-quality products and services for women and men. The company's stylists create innovative hairstyles for weddings, photoshoots, and special occasions. As well as custom color services like balayage, ombre, and 3D color. Cuts, highlighting, and soothing hair treatments are available. The customers can purchase expert hair extension installations and dreadlock maintenance. All for a perfect, customized look. Professional makeup application is also available. Maitland, FL 32751. Tel:+14073761248
I Love My Hair – Orlando
Customers love the professional staff and competitive prices at I Love My Hair. The Orlando salon offers a range of top-quality services. The ones such as cuts starting at $45, wedding and special event styling starting at $75. All perms starting at $125. Customers can enjoy fresh, vibrant colour, highlights, and colour correction. The ones performed by the company's owner and Master Stylist and Colorist. Customers can call or schedule an appointment on the company's website. The company offers refunds for fire, police, teachers, and military customers. Orlando, FL 32835. Tel:+14079747769